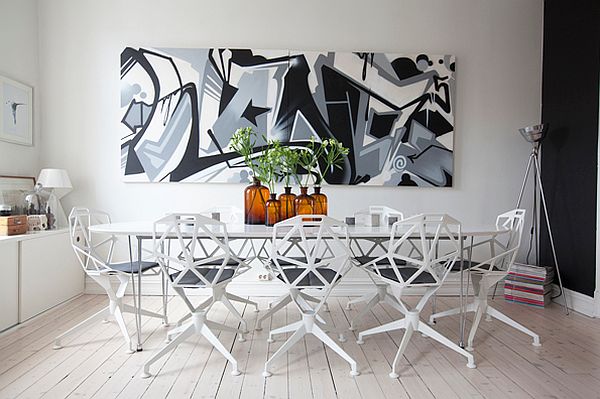 Courtesy-Decoist
Graffiti is no longer the frowned-upon form of street wall vandalism. No. It has now taken up the form of art, a form that is much appreciated and sought after by all who are inclined towards art and colours. If you are one such person, looking to deck-up your home with some graffiti art, here're a few ways in which you can do so:
Outer walls graffiti – if you want to show off your artistic nature, get your home outer walls decorated with graffiti. You can choose to go with a theme, say ocean, space, sea, forest etc, or you would just choose a modern and random design and colours. You could also get welcome messages spray-painted to highlight your welcoming nature.
Inner walls graffiti – these could be done to create a one big story by adding graffiti in each room as a part of a whole graffiti design, or you could do each room differently. Example, kitchen could have a fruit story, and the library could have an intellectual graffiti text art done.
Furniture – yes, you can now get graffiti art done for your furniture as wall. Just choose what you want to get done, again either as a piece by piece style, or a summation to make a bigger story.
Paintings – probably the most common and toned down style of introducing graffiti to your home is through paintings. Graffiti art paintings are available in abundance in the market and online, so just order them for your home and welcome graffiti.
These were some ways to introduce graffiti art to your home. Adopt them and show your artistic side to everyone.